Call us now on 21422371 for your appointment

'Gino Galea Photo Artist' studio established in 1980 is a powerful symbol of local photographic art. They can do more than just document the events on your wedding day! Be it a 'destination' or a typical local wedding, this family-run studio is directed by Gino Galea being a Master Photographer himself, who knows well his profession for he can capture the spirits of your friends and loved ones. He is closely supported by his son Clifford Galea Valletta B.Sc. I.C.T. (Hons). and his daughter Alison Kind B.Sc. I.T. (Hons) LSWPP LMIPP who is an IT graduate and a qualified pro photographer from the 'Society of Wedding Photographers of UK', with exceptional artistic flair in wedding photography. Since Malta itself is fast becoming a leading location for destination weddings, so did this studio, where many couples are seeking the services of this 'art studio' to guarantee peace of mind of their big day and beyond whenever they proceed with the production of their wedding album.
TRIPADVISOR: https://www.tripadvisor.com/ShowTopic-g230152-i1509-k4032442-Wedding_Photographer-Mellieha_Island_of_Malta.html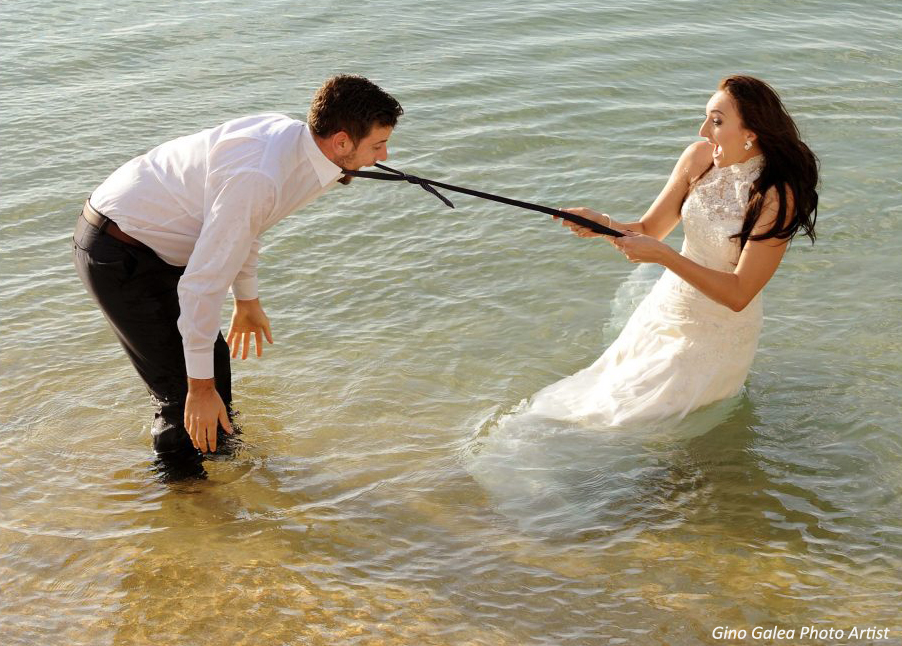 They say that 'a photo is worth a thousand words' so, who else can record your lifetime occasion if not the award-winning photography of Gino Galea Photo Artist whose photos are of course 'priceless' and ' timeless' at the same time! This is a unique combination of artistic talent, experience, technical ability, AND the powerful image editing tools, thanks to the strong potential of this reputed studio based just three minutes walk, just through the road in front of the main door of the famous Basilica dedicated to St Mary, or Mosta dome.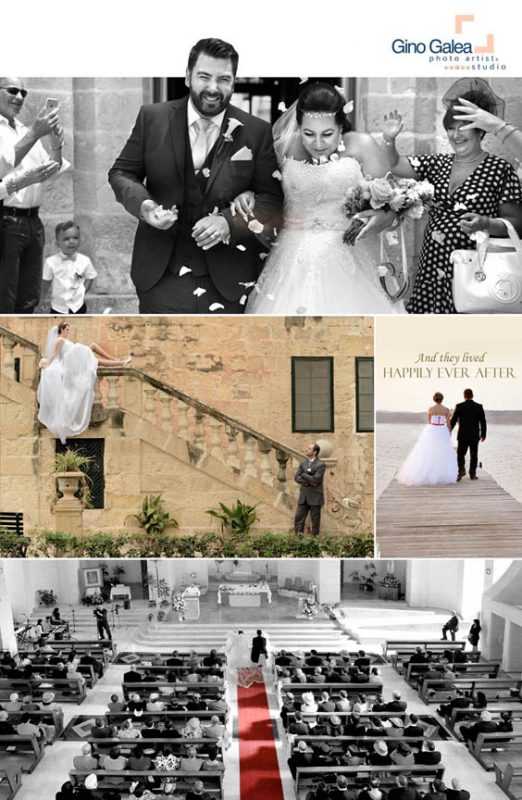 Beautiful wedding photographs are very special moments in life, carefully preserved in striking prints. Your wedding photography can be formal and elegant, candid or a wonderful combination that is uniquely YOU! Black and white, colour, sepia or digital images can all play a part in remembering your wedding day and its affection. Be it a 'destination wedding' in Malta or perhaps at the sister island Gozo, a competent, qualified and experienced professional photographer is the 'crucial piece in the jigsaw' that 'freezes the best moments of your wedding, forever!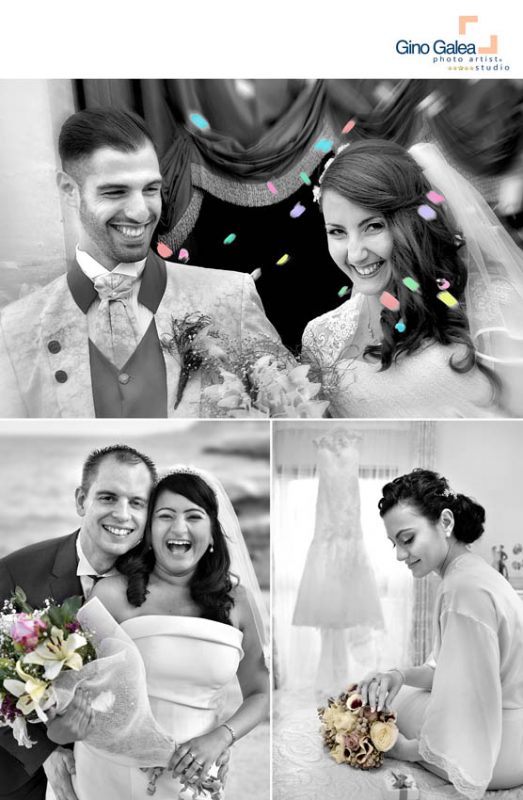 Your flowers, gown and colour choices will all be preserved in time, along with the faces of those who meant the most to you on your special day.

TRIPADVISOR: https://www.tripadvisor.com/ShowTopic-g230152-i1509-k4032442-Wedding_Photographer-Mellieha_Island_of_Malta.html

Today's couples want to enjoy their day with as little interference as possible, and the bride and the groom certainly don't want to be lined up for what seems like long wasted hours whilst the photographer grinds through the same old tiring poses and in many cases forced smiles. Above all, they do not wish to have their wedding spoilt by a photographer who dominates THEIR day. Yes, of course, there has to be a few very essential family pictures, together with those few magical poses that make all the difference, but these can be taken quickly and effortlessly thanks to the vast experience of this team of proper photographers. The rest will have a relaxed, reportage, casual and spontaneous feel.
Gino Galea Photo Artist are the right people for the job. Photography in Malta like everywhere else evolved over the past four decades and so did Gino's photography created by this unique team of dynamic and creative photographers. They DO know the right balance to ensure that the newlyweds enjoy their day to the full! One should also keep in mind that despite all those tiring preparations…the moment you step out of the wedding venue for your honeymoon, your wedding day turns out to be just history. The first thing that the newlyweds will go for following their big day is the pics and the beautiful comments on social media which is rather short-lived. On the other hand, the real thing that will make you re-live your wedding day is that exquisite lifetime digital photo album and probably that Pendrive hosting your unique video containing all the wedding action.
This studio gives the utmost attention to all the services that it provides, be ita 'simple' passport or visa photo to the largest of a destination wedding or the typical wedding photography in Malta.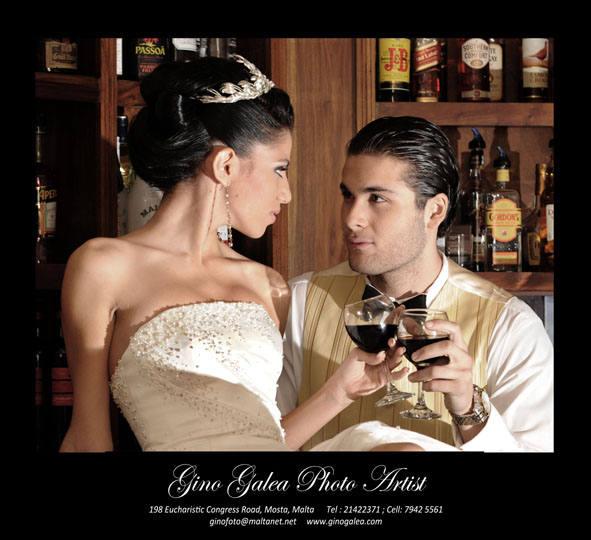 Why the "photo artist"? Like all other things in life, a good photograph can be simply a memory or something special, which rises above all others. Gino Galea did not want to be like the rest, so being an artist himself, he went on to the artistic side of photography making his work stand out above the rest at highly competitive and decent rates. To further enhance the difference from other entities Gino chose the photo artist as the official logo. This embodies all that 'Gino Galea Photo Artist' stands for Artistry, Creativity, Quality, and Style.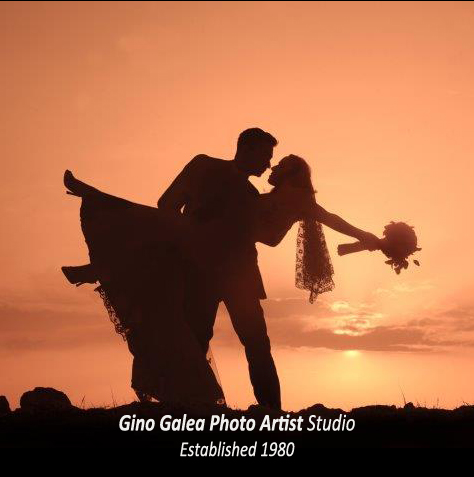 'When the moment is yours, cherish the memories forever with the camera artistry of Gino Galea..the Photo Artist'
Call us now on 21422371 for your appointment
Opening hours :
Monday to Friday: 9.00 am – 12:30 pm & 4.00 pm – 7.00pm
Saturdays: 9.00 am – 12:30pm
Postal Address: 'Gino Galea Photo Artist',198 Eucharistic Congress Road, Mosta MST 9037, MALTA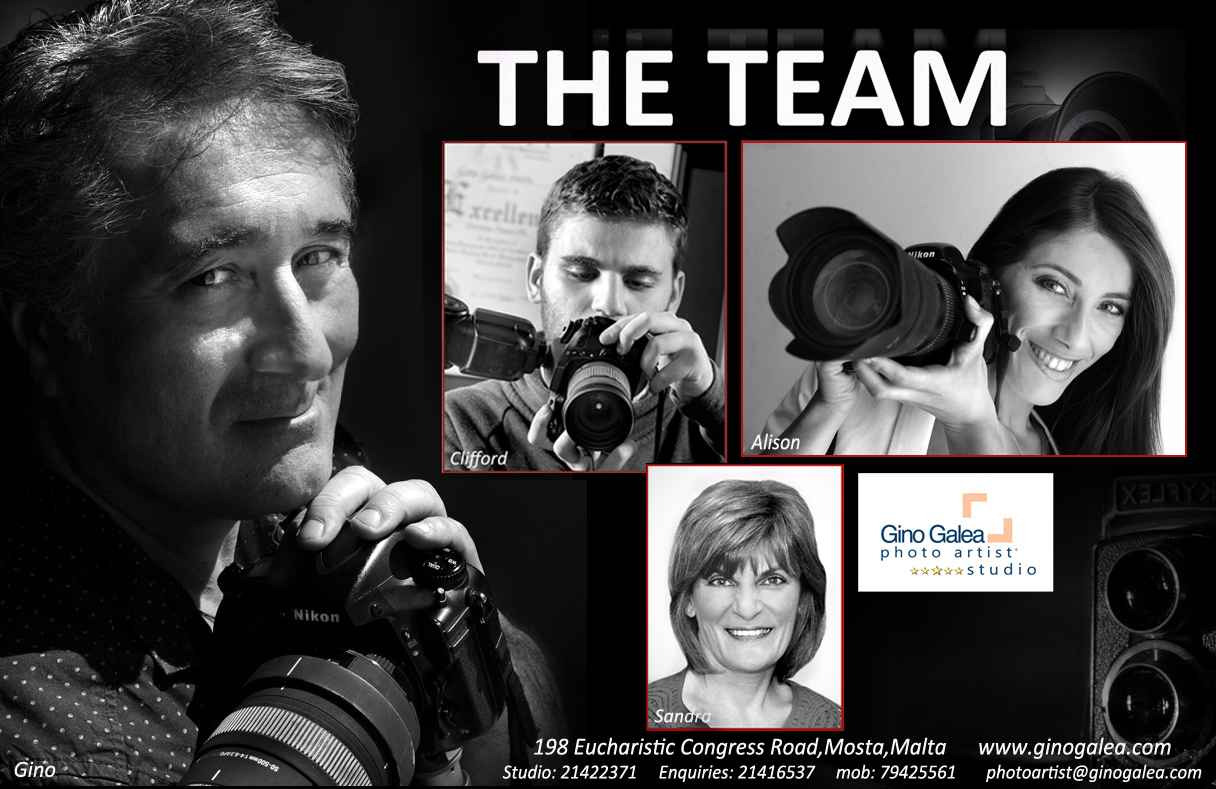 Contact Details : Studio : 21422371
Office : 21416537
mob :79425561
Email: photoartist@ginogalea.com
www.maltaphotos.com
.
'Your wedding day will, of course, be unique…and so too should your wedding album'
.
.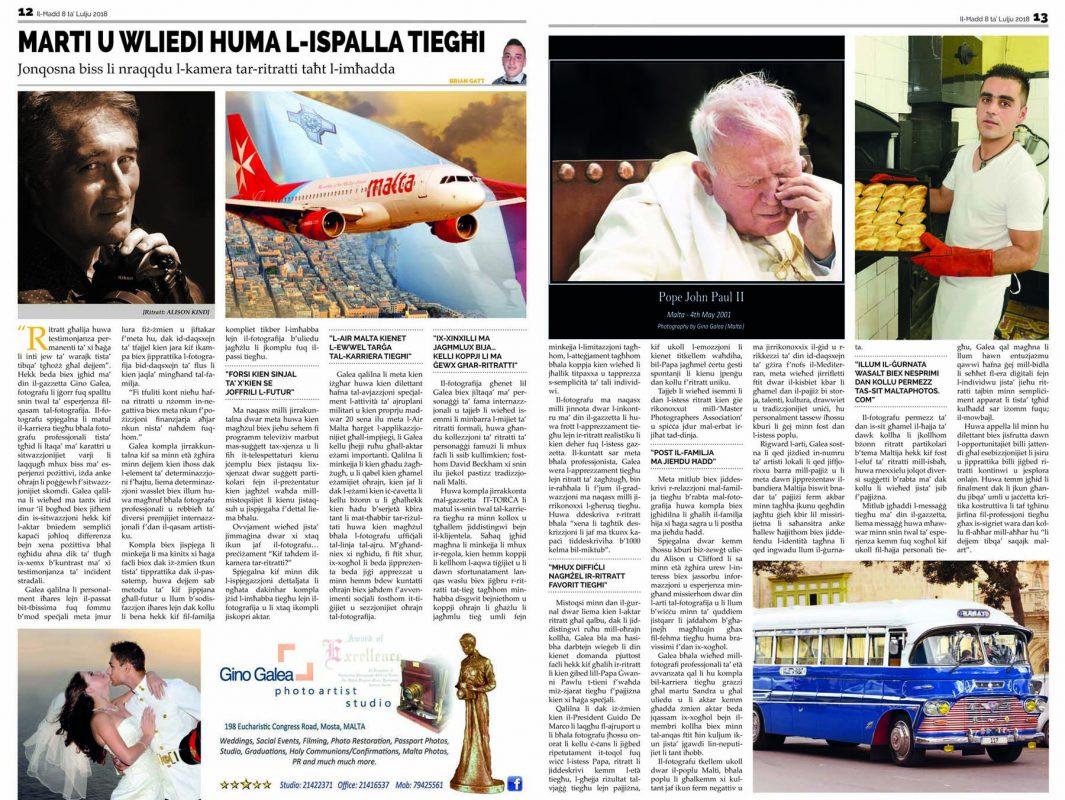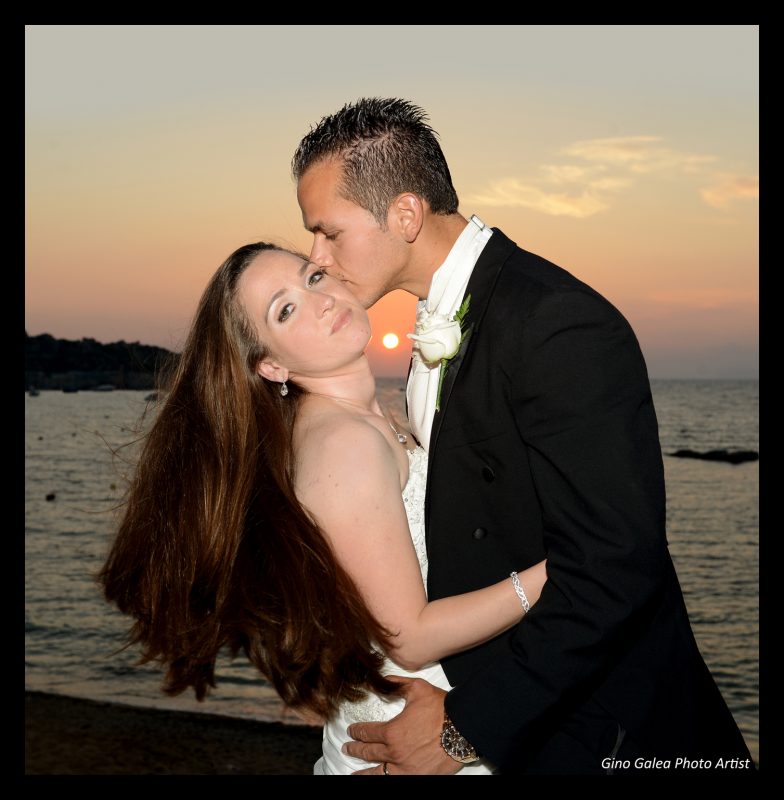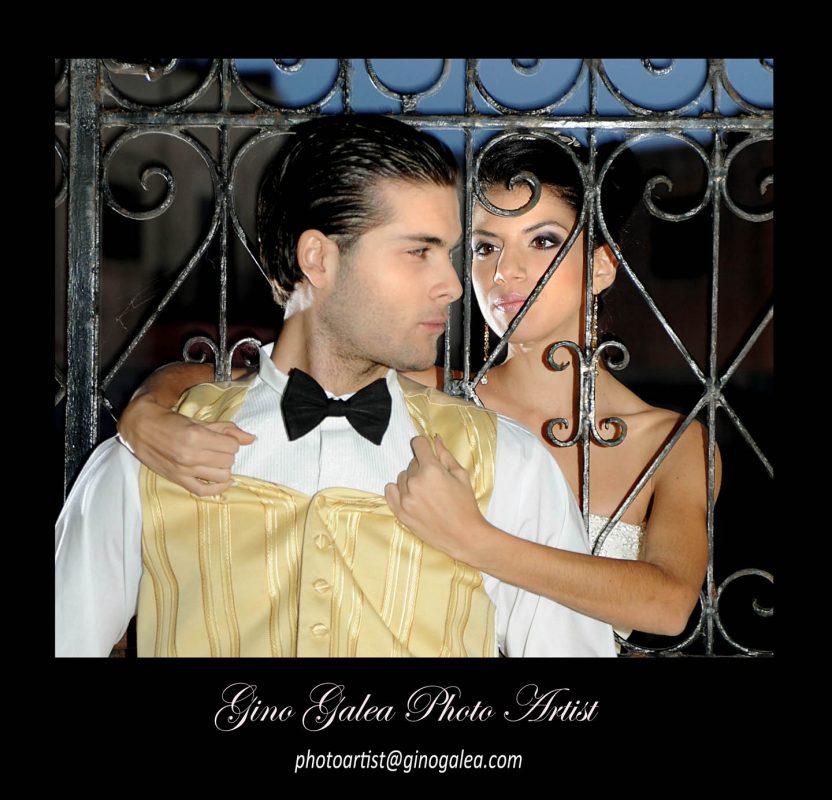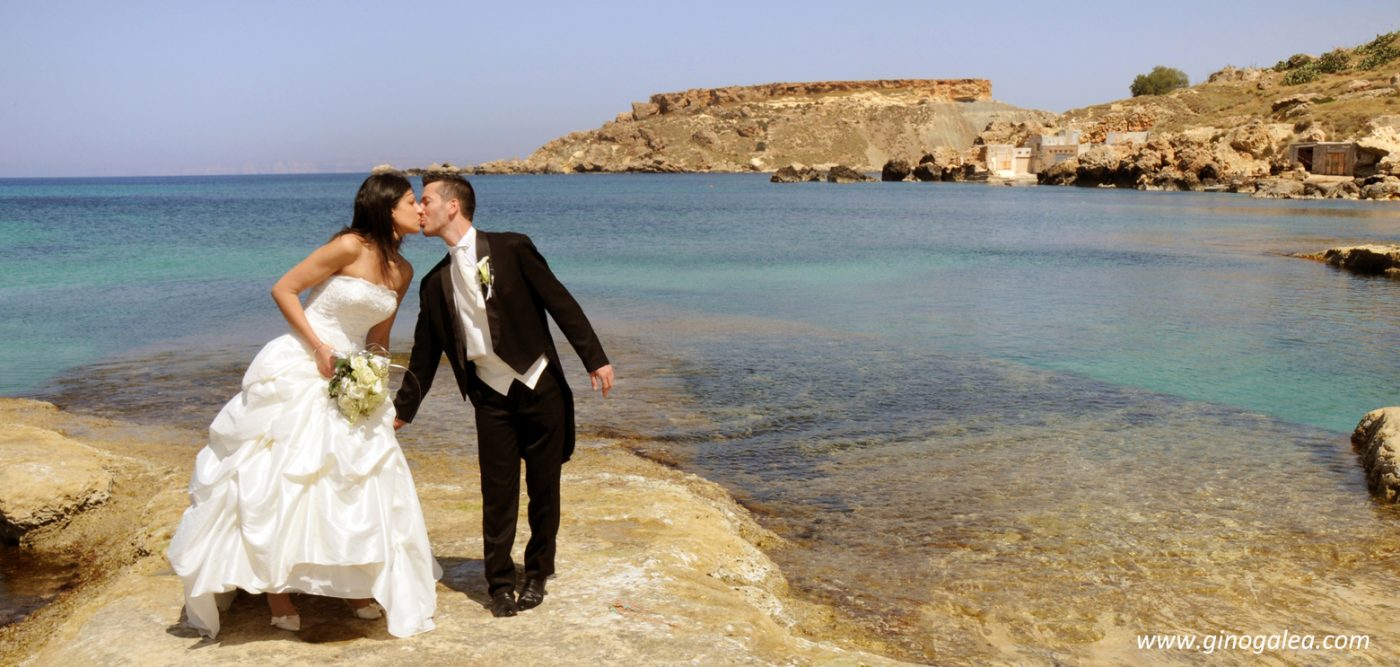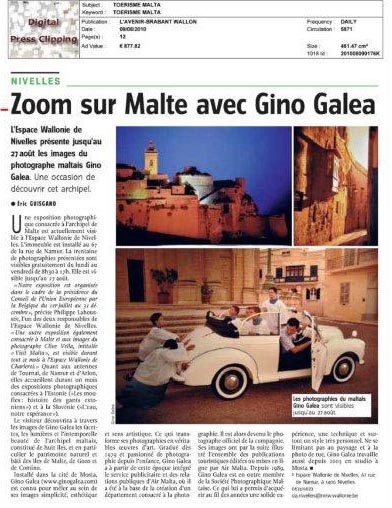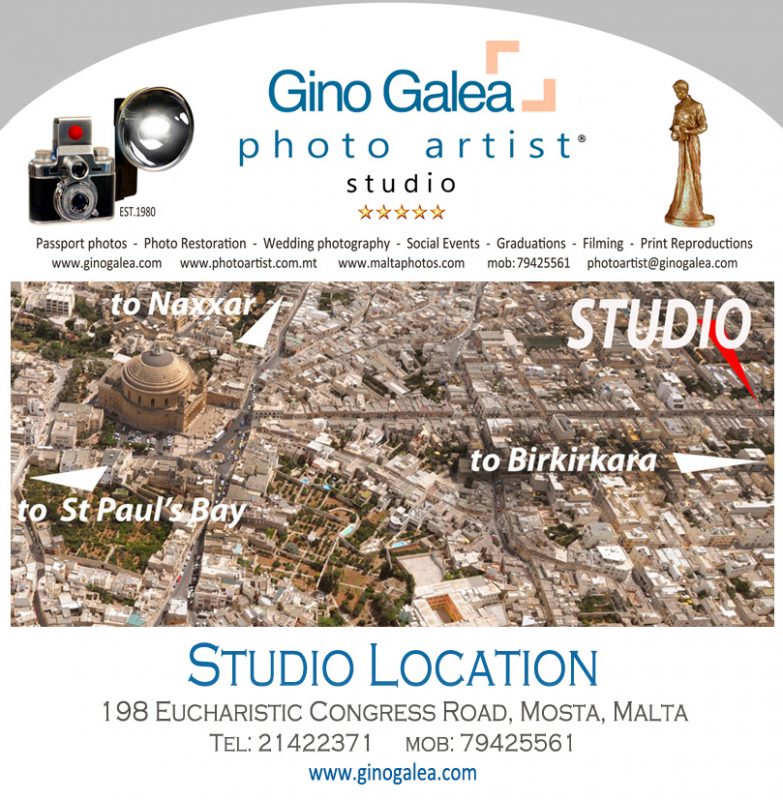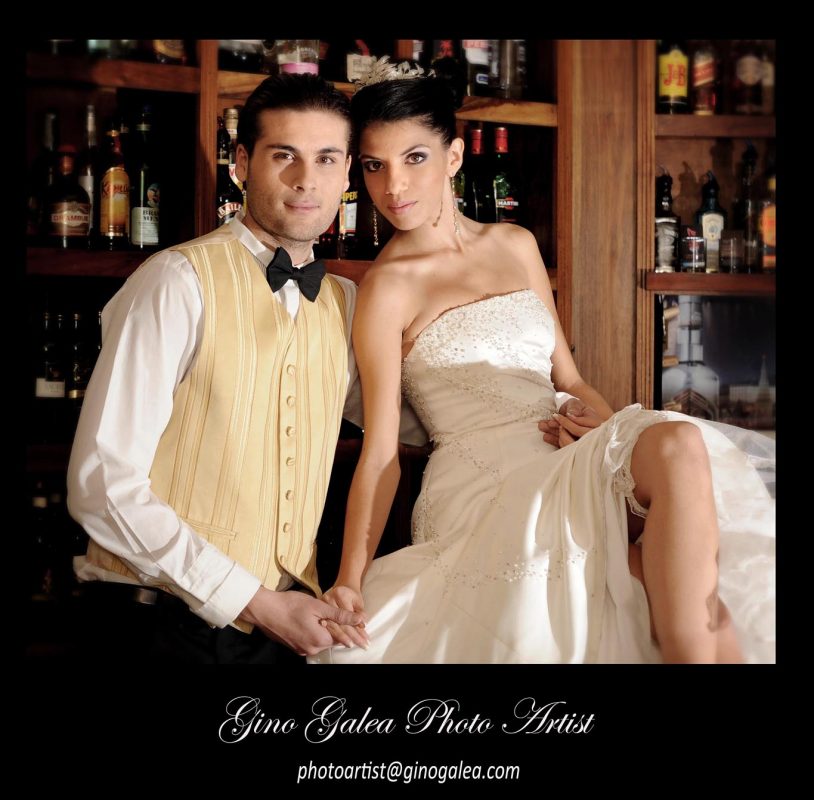 You are invited to LIKE and SHARE our official page on Facebook: https://www.facebook.com/maltaweddingphotographers/
.
.
.
.
.
.
.
.
.
.
.
.
.
..
.
.
Maltaphotos#photography#malta#graduation#university#portraitphoto#photostudio#photo#studio#session#photographers#mosta#weddingphotographers#destination#wedding #ginogaleaweddings #weddingphotographymalta#weddingphotography #ginogalea##passportphotos#malta#passport#officephotographer#visaphotos#licencephotos#identityphotos#americanvisaphotos#visaphotos#images#fineart #decorative frames#